ALLU is a luxury vintage shop from Japan. We offer a plethora of high-quality luxury brand items that elevate the ownership experience. With over 100 buying locations across Japan, we only select top quality products that will charm fashion lovers. Together with our listed parent company, we have the most trusted source of authentic luxury goods.
AUTHENTICITY GUARANTEED FROM JAPAN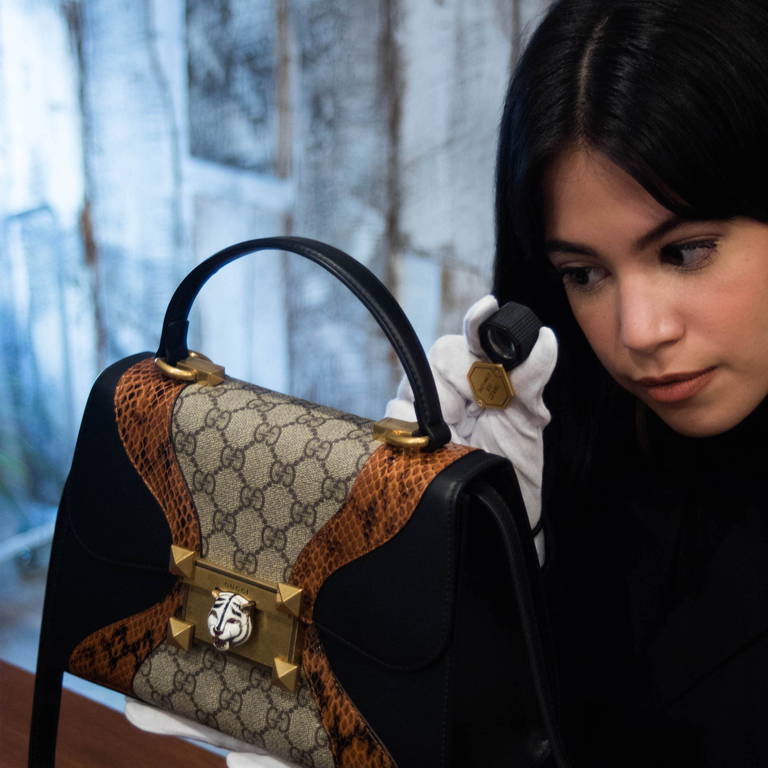 AUTHENTICITY AND TRANSPARENCY
Our purchasing concierges are well experienced and provide special services with high customer satisfaction. All the products listed on our official website are inspected by our professional team. All Jewels are polished, while the luxury watches are inspected carefully and repaired if needed.
Our store "Nanboya" specializes in purchasing pre-owned luxury goods. Nanboya currently has over 100 stores across Japan, New York, Hong Kong, Singapore & France. ALLU's company headquarters are located in Japan and have been established since December 2011.
Head Office

Shinagawa season terrace 28F,
1-2-70 Konan, Minato-ku, Tokyo, 108-0075​
Subsidiaries
Valuence International Hong Kong Limited
Valuence International USA Limited
Valuence International Singapore Pte. Limited
Valuence International Europe S.A.S.
Valuence International UK Limited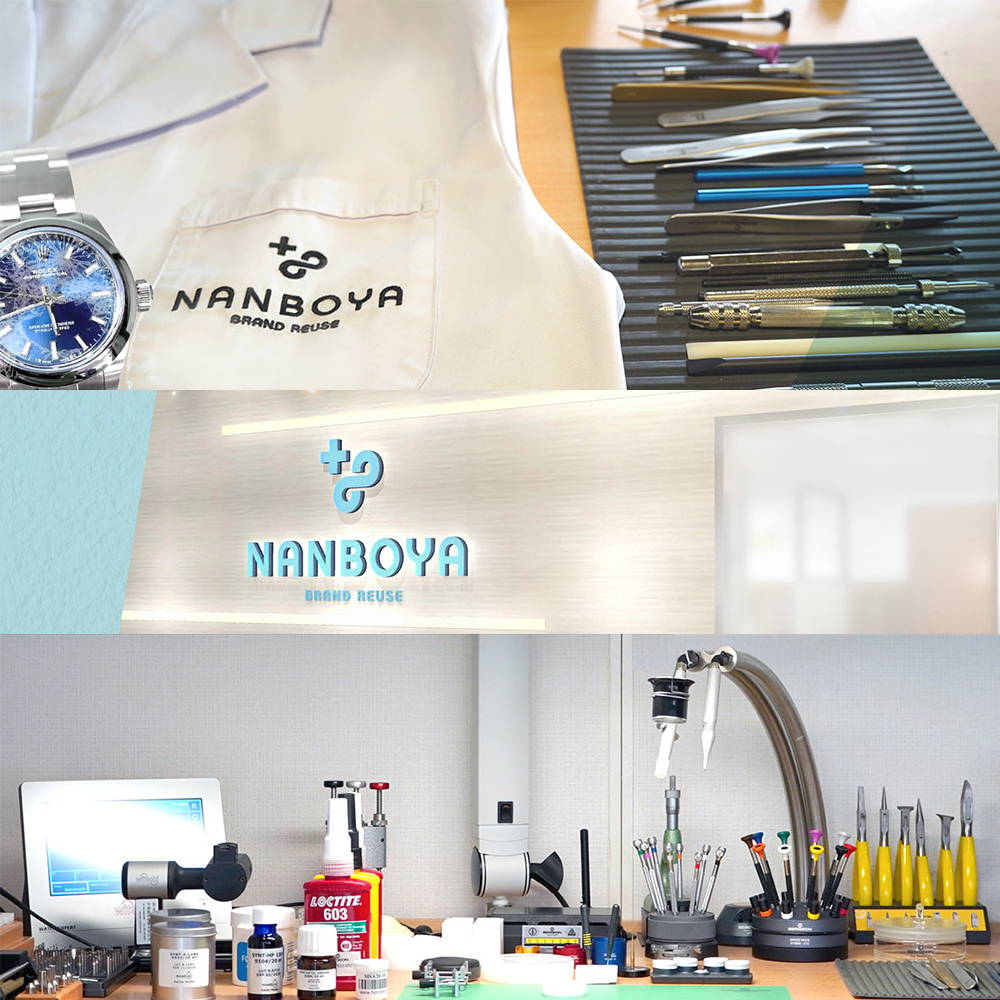 The ALLU experience offers a range of exclusive services created specifically for you.
Each item is put through a rigorous, multi-point authentication process by our highly trained gemologists, horologists, brand experts and/or art curators. Every item sold on the site undergoes a rigorous authentication process before being sent to you.
We provide free shipping on all our products worldwide. All high value products ship for free with insurance. (some areas are not eligible)
We ship your order within 3 to 5 business days. All the products are shipped with trusted international couriers or postal service.
As our special service, we offer 10 days' return policy if you are not satisfied with what we purchased from us. Please contact us within 3 days after you received the product, and return it within 7 days after. Please review our return policy for detailed information.
MULTILINGUAL CUSTOMER SERVICE
Our customer support team has members who are fluent in English, Chinese and Japanese.
Our payment options include VISA, Mastercard, American Express, JCB, Diners Club, PayPal, Union Pay, Wechat Pay, and Alipay.
You may contact us through online chat, email, and phone call. Our representatives will respond ASAP and provide further assistance.


"ONEGAI ALLU" is a special service that will allow us to find the item you are looking for. If found, we will contact you and confirm. You can request a search by registering below.
Try Now >>>

WATCH CERTIFIED AUTHENTICATION
Every watch is confirmed by the inspection process and is repaired if necessary, by our expert watch makers. Every single timepiece that comes in from our end is authentic and functions within original factory specifications.
We are extremely proud to have received a 5 star review from our customers. Your trust is our motivation, which is why we believe that customer satisfaction is the most important aspect of our trade. We continue to improve our service no matter how successful we are.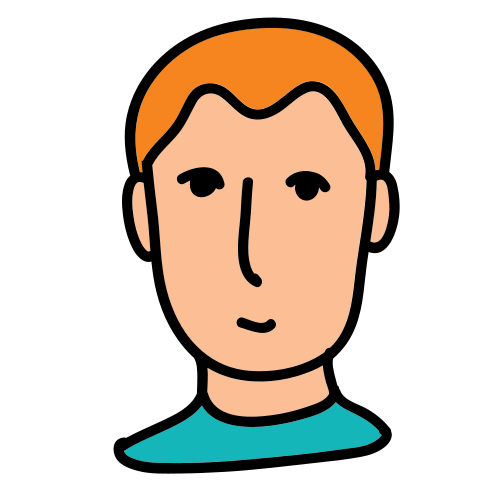 Super !
"Super merci beaucoup."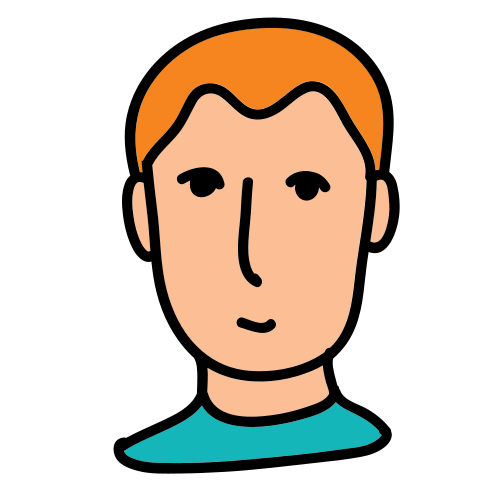 Perfection
"Fast shipping, protective wrapping, excellent condition."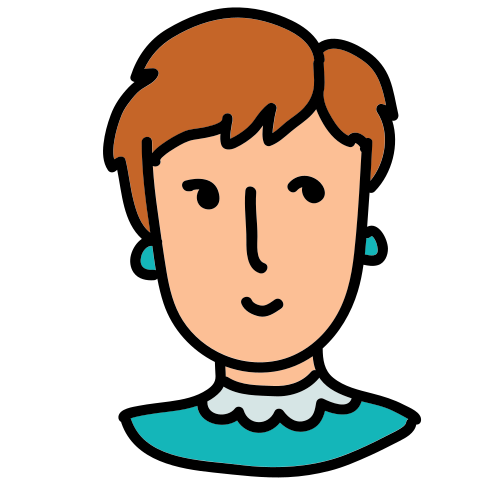 Happy purchase
"You quickly reply my enquiry and the products also match the description. I am very satisfied with this purchase."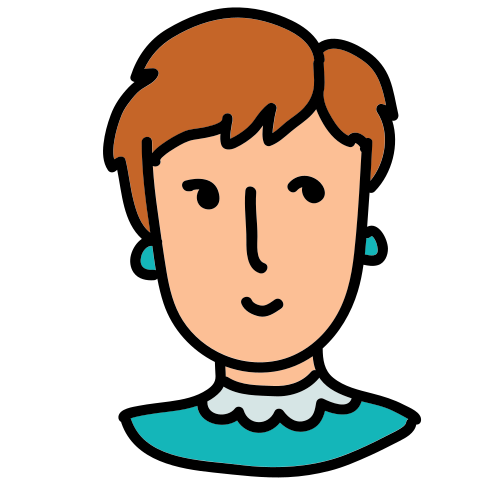 Great customer experience
"I was incapable of buying my dream handbag from Louis Vuitton until I saw it on sale in a Japanese store. I'm from Europe so it's always tricky to find a trustworthy website abroad. I contacted Allu and their customer service is truly amazing! I had several questions, and they always took time to answer them in detail. I ordered the bag on Wednesday and at Friday it was delivered already at my home. So it took 3 days to ship from Japan tot Europe! I was beyond thrilled. Thank you to the Allu team for obtaining my dream Capucines handbag from Louis Vuitton. I'm beyond grateful! "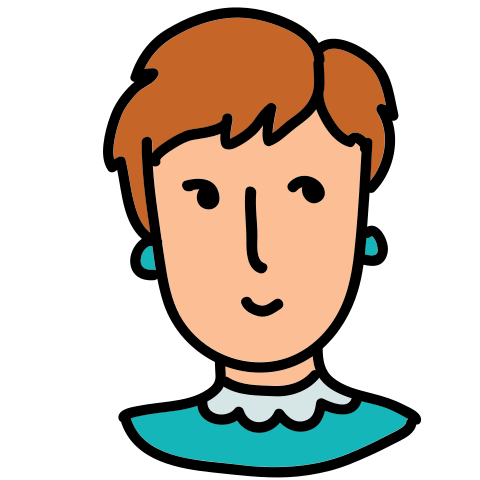 Beautiful item, great service!
"I love this! Very beautiful and I am satisfied with the service.."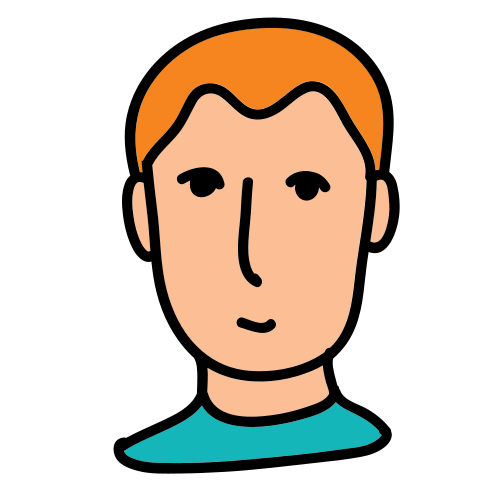 Very good service
"Item exactly as show and stated on the product page and relativeley fast shipping, considering the item was shipped from Japan."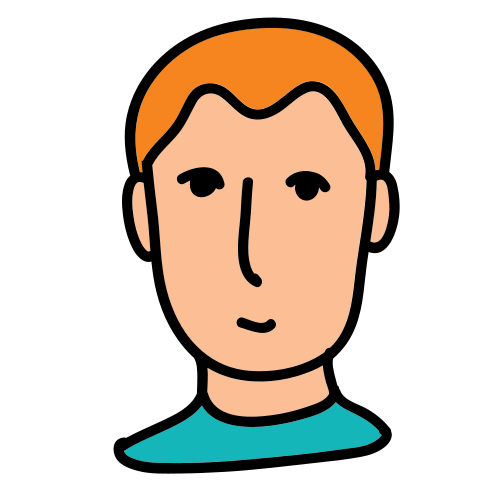 Chrome glasses
"Shipped super quick to USA for a great price in great condition. They also provide great customer service."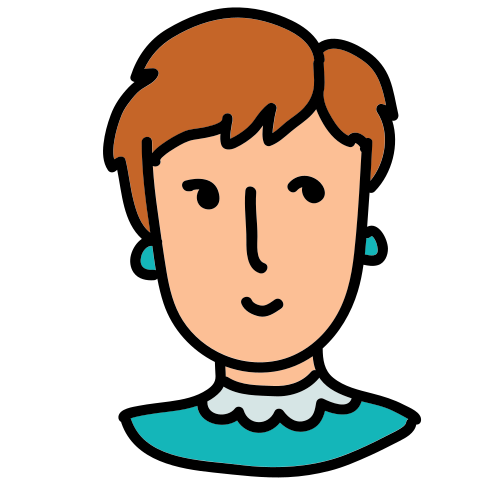 Superb
"My purchase of a high range product from Allu was more than amazing in any aspect.
As this was my first purchase of a "Vintage" product, I am extremely happy to have bought it from Allu and nowhere else. Not only that they provided me a high-speed and extraordinary great communication along the line - I also received the product of my dreams safe and super fast. If you are an abroad customer (reviewing from Germany) and searching for something super rare that you found at Allu - I highly recommend to go for it. This was the best experience in my whole online shopping career and I promise this was not the last one from this beautiful shop, definitely coming back. Highly impressed - thank you once again "
ALLU eBay customer reviews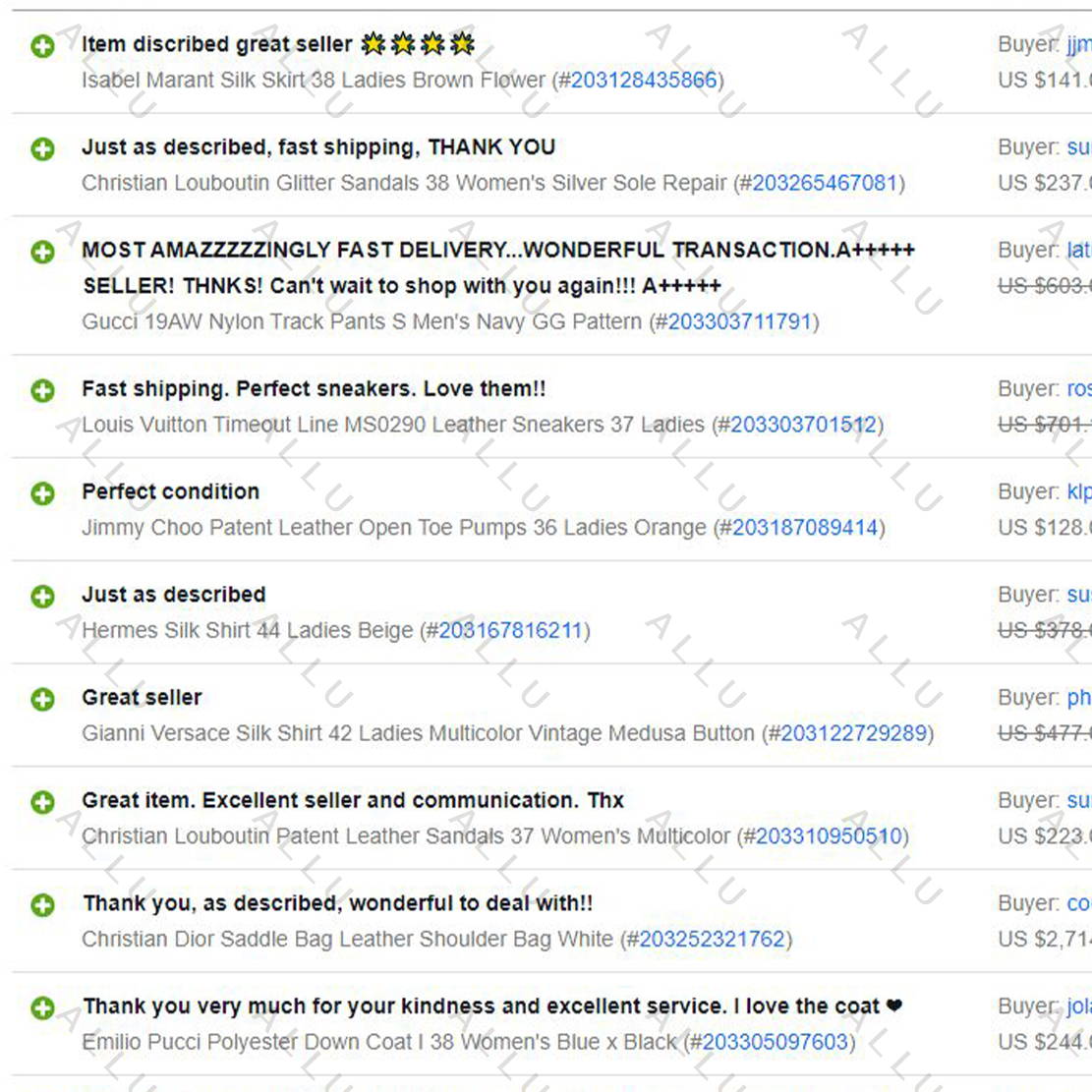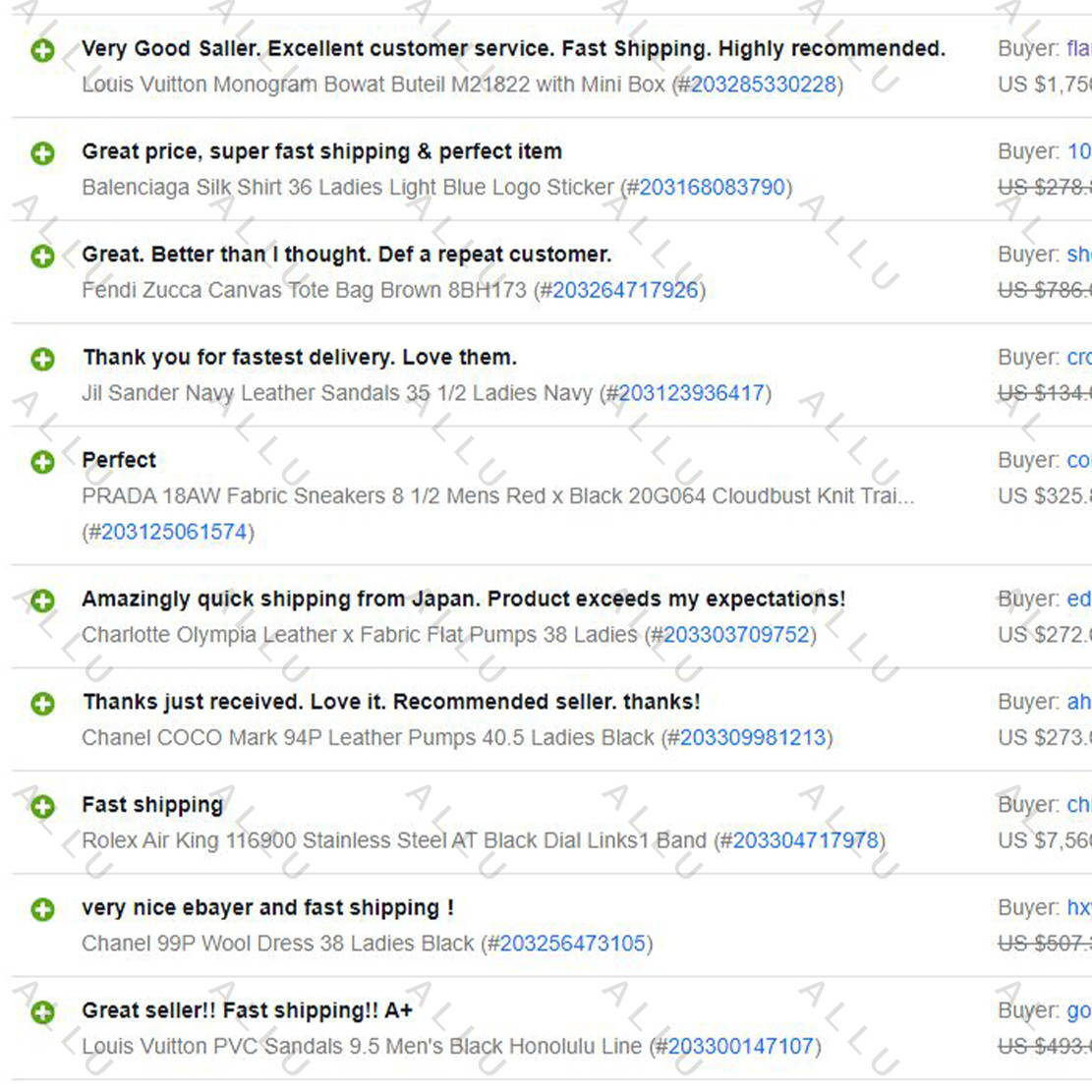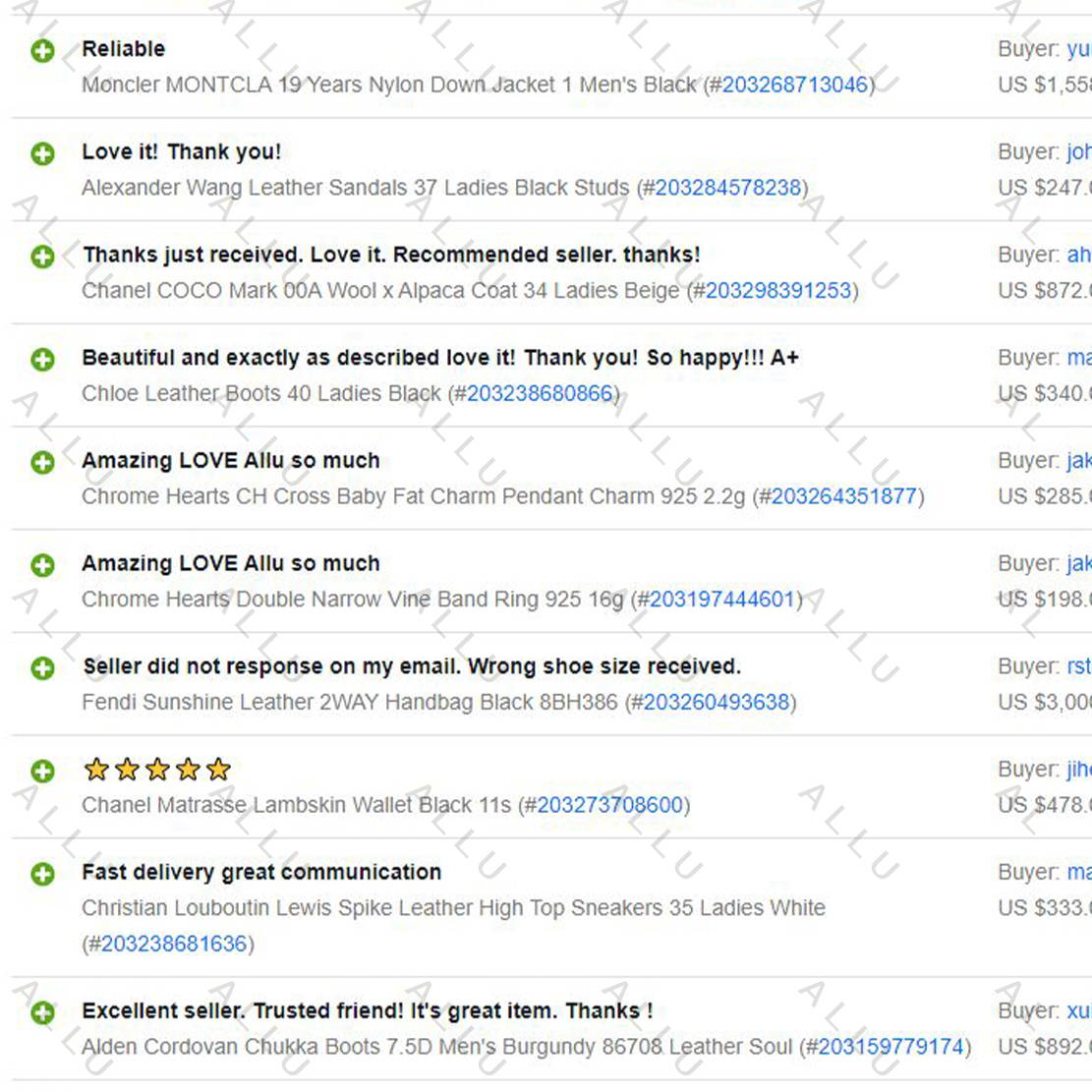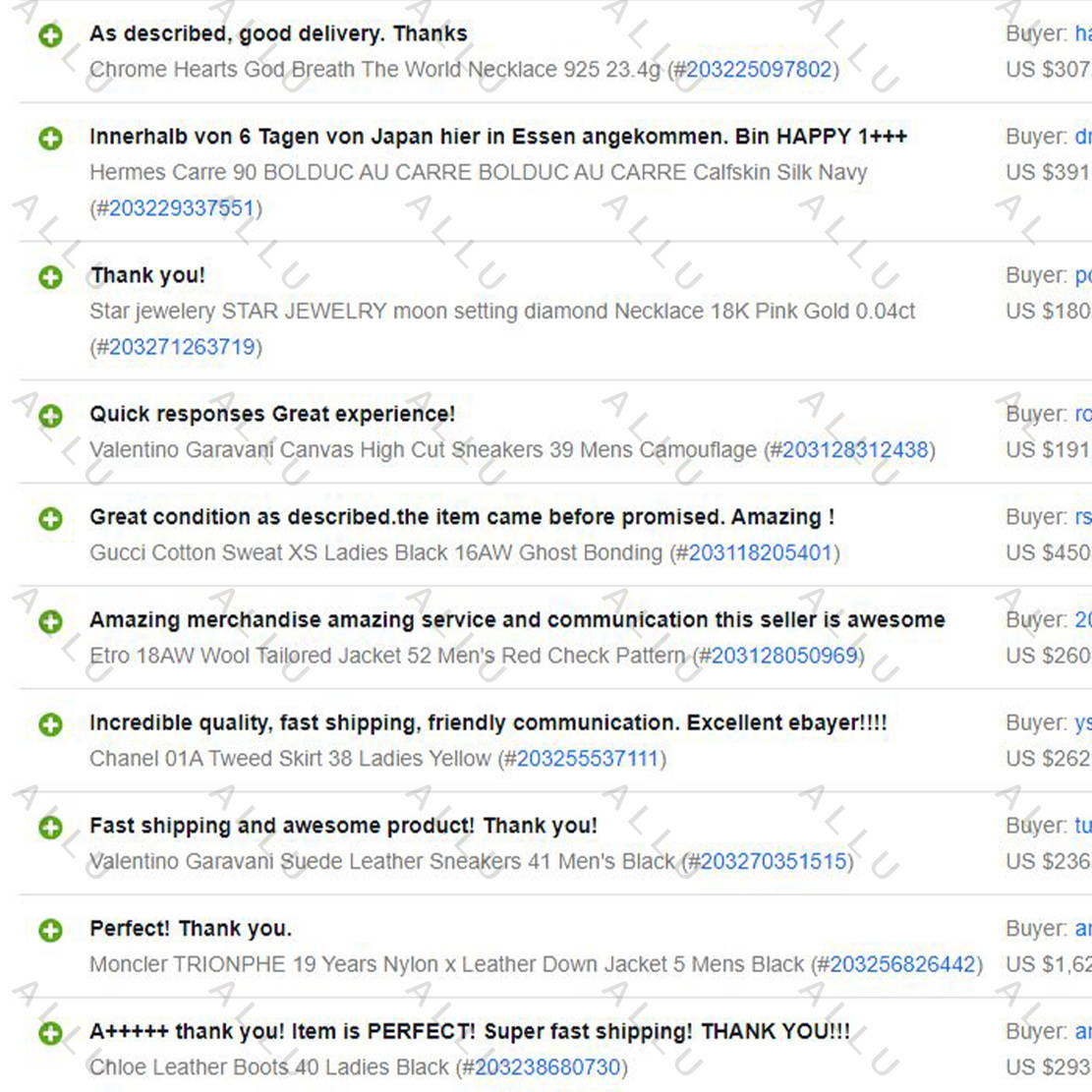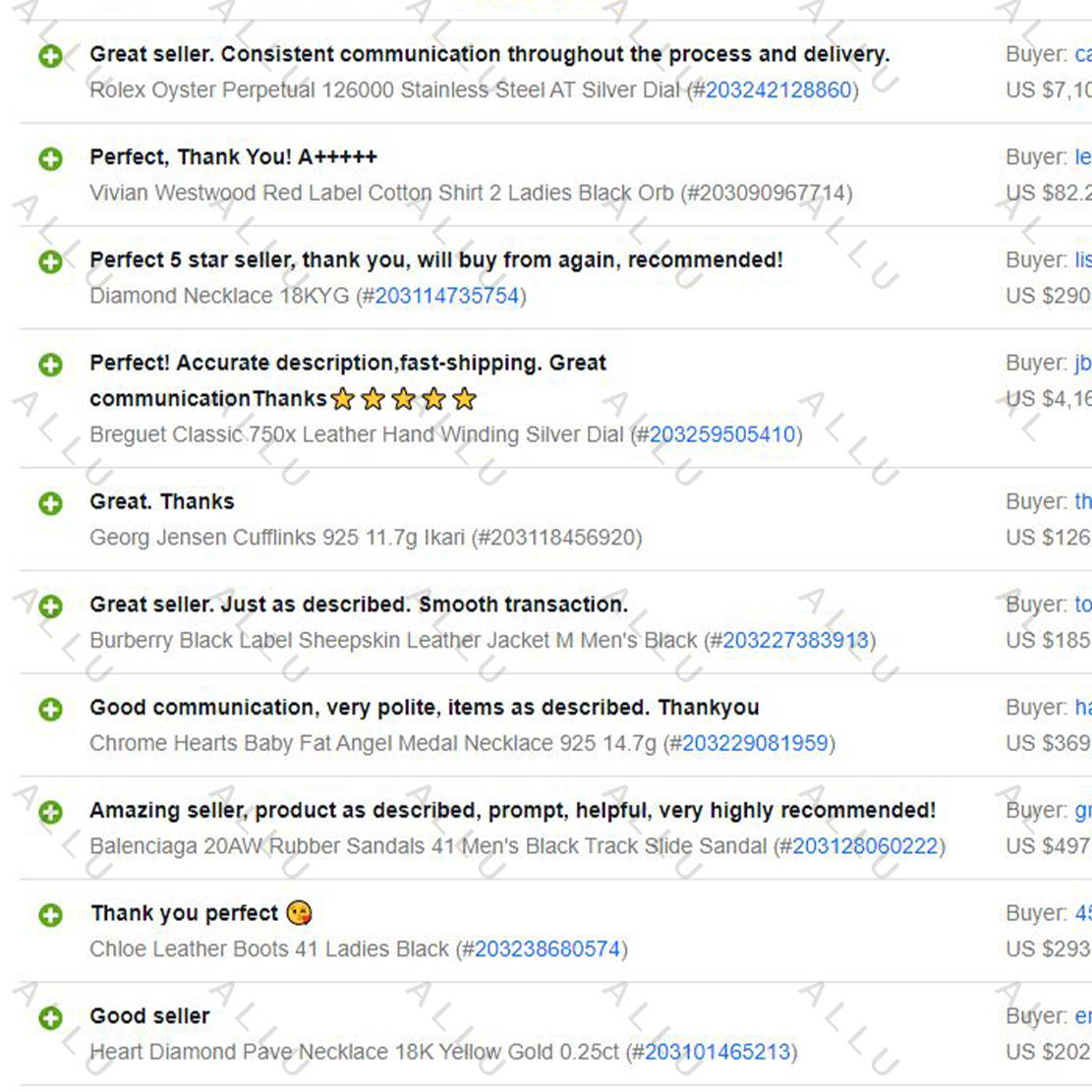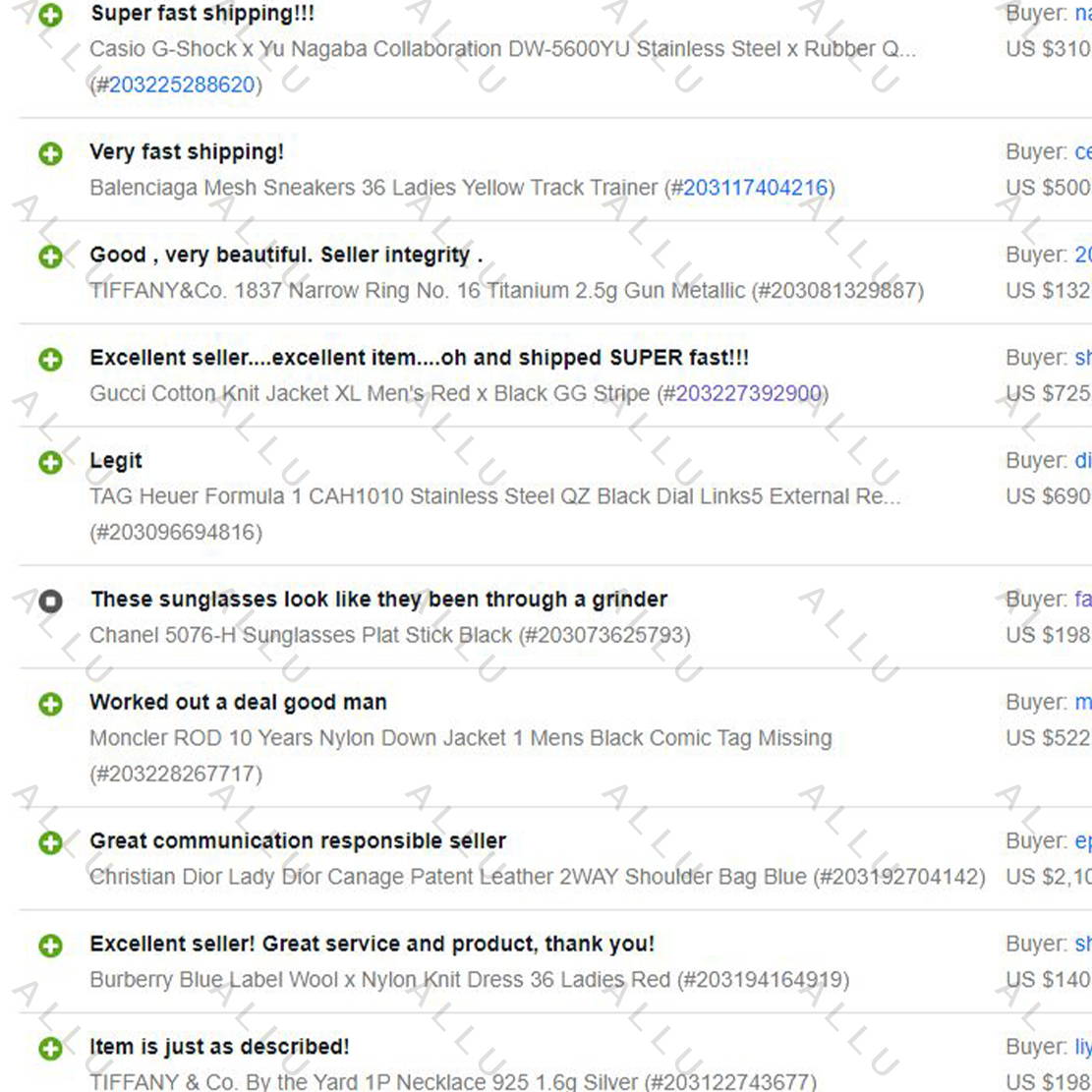 Our retail store is located in the top luxury area of "Ginza" Tokyo and "Shinsaibashi" which is located in the middle of Osaka's city. It is a place where you can find vintage items of luxury brands such as Hermès, Chanel, and Rolex only in the retail store.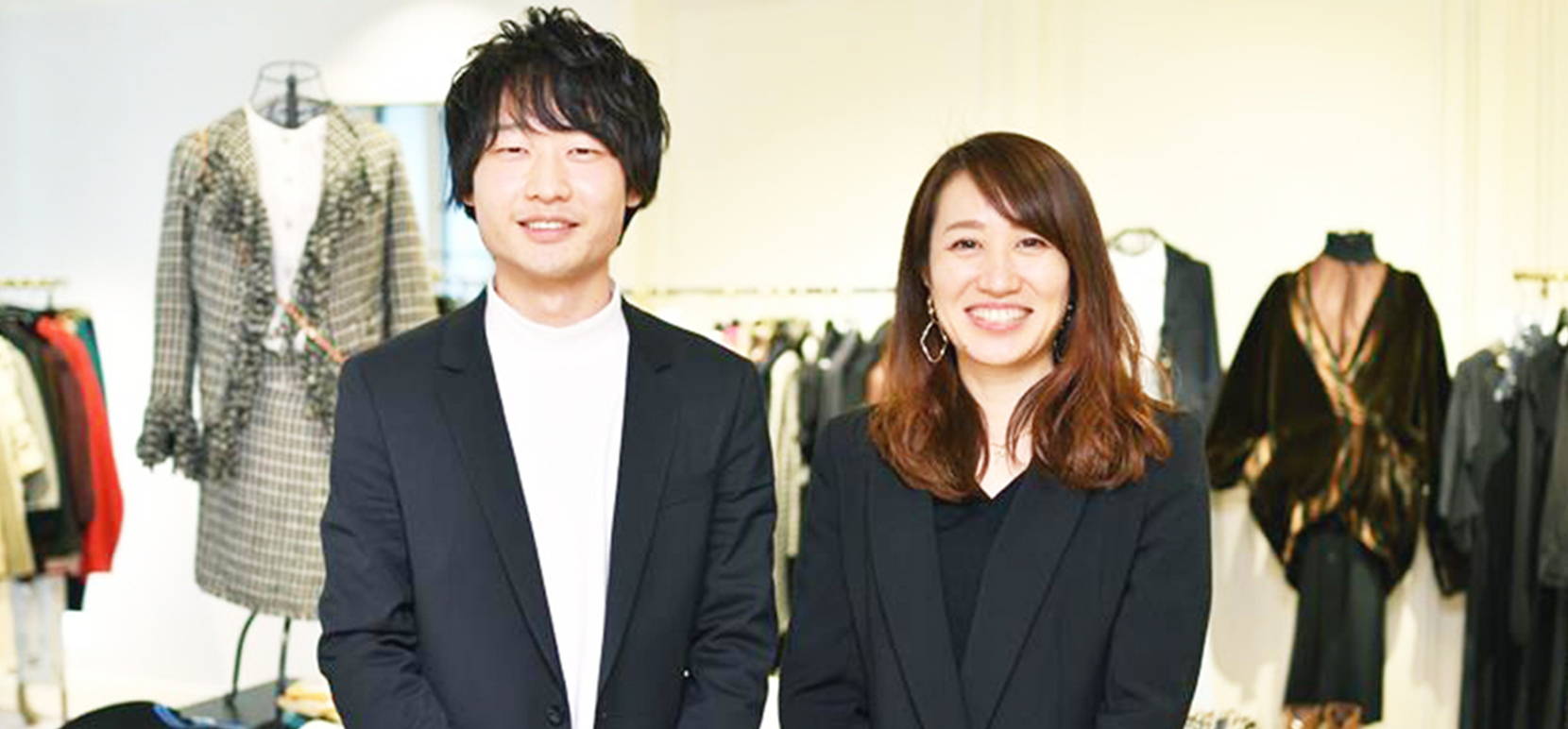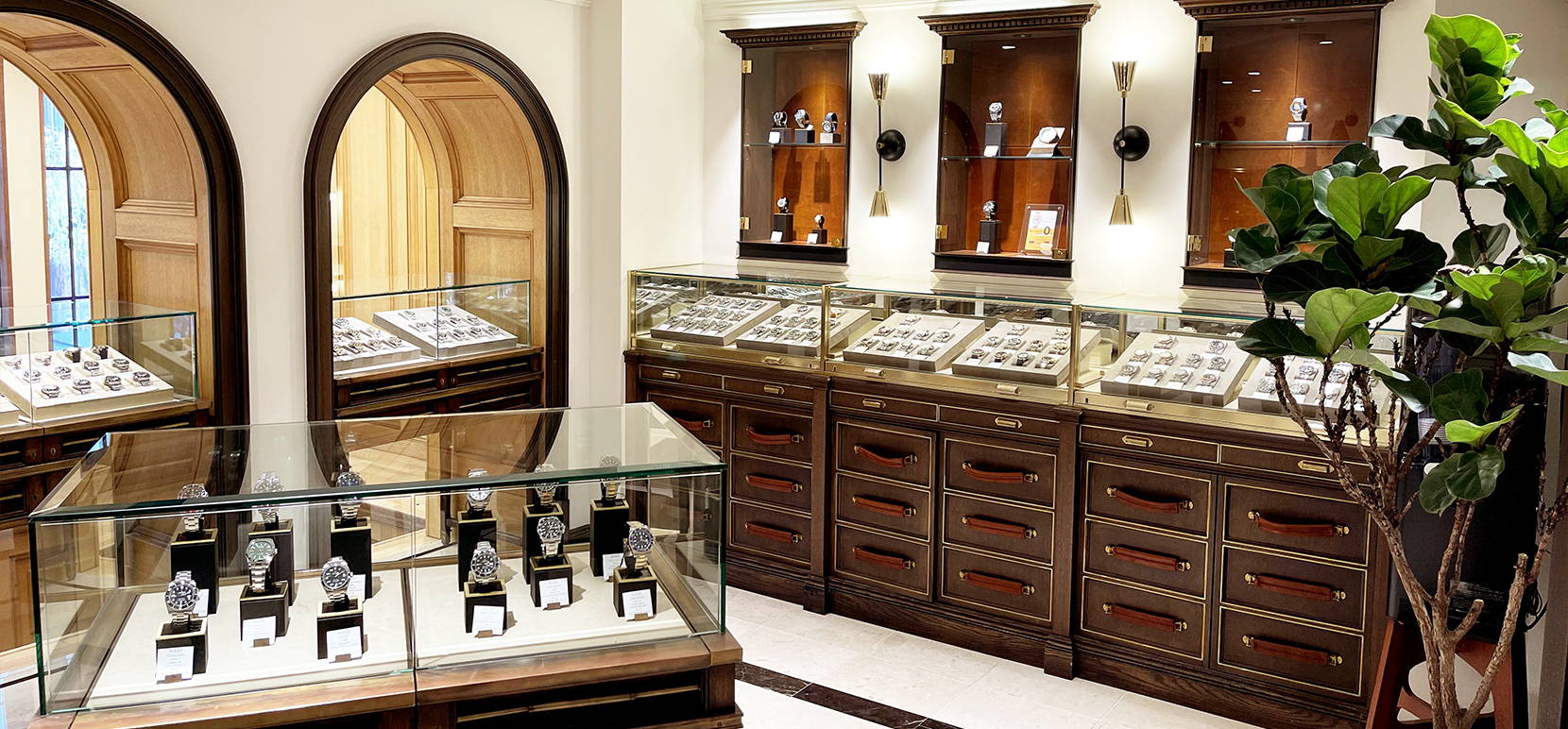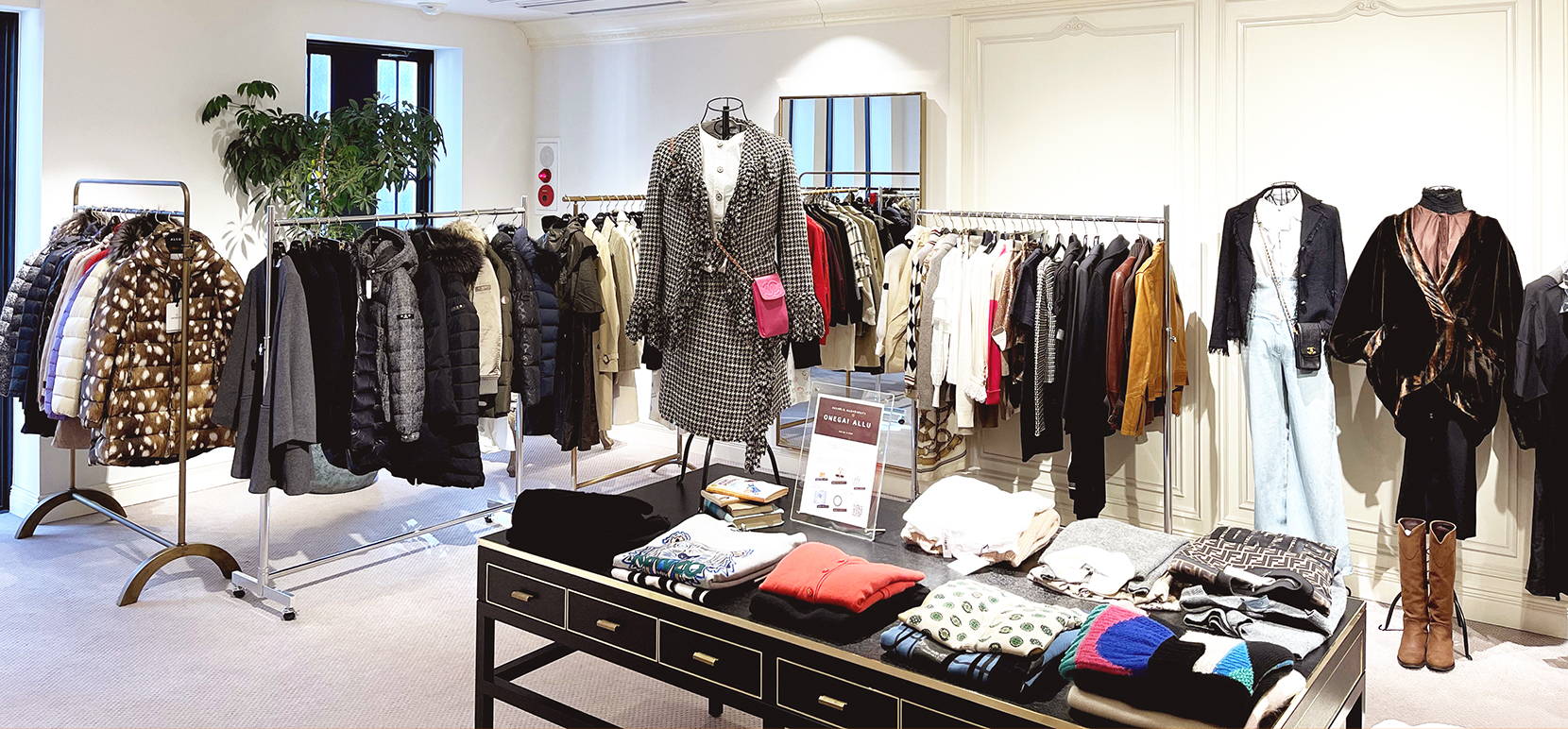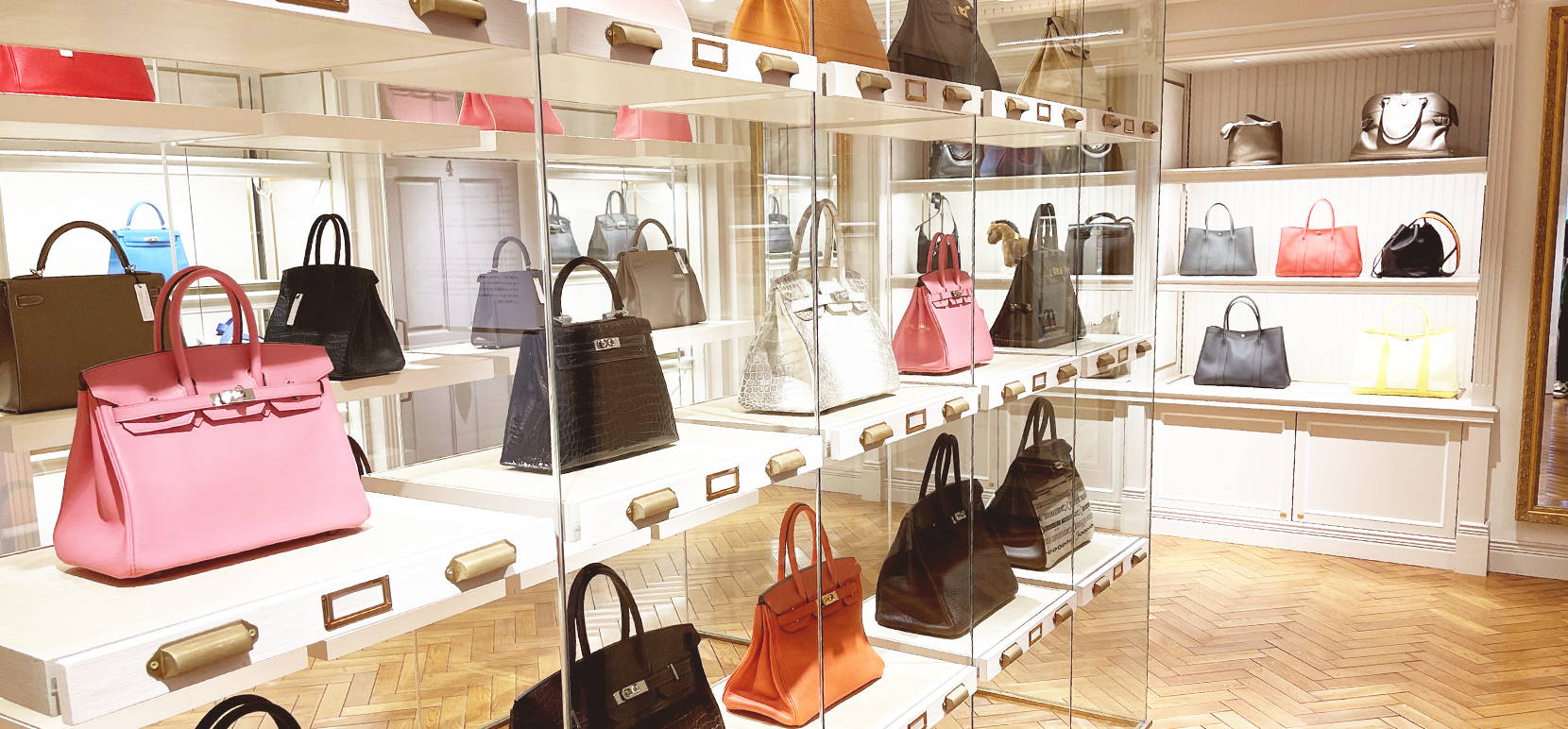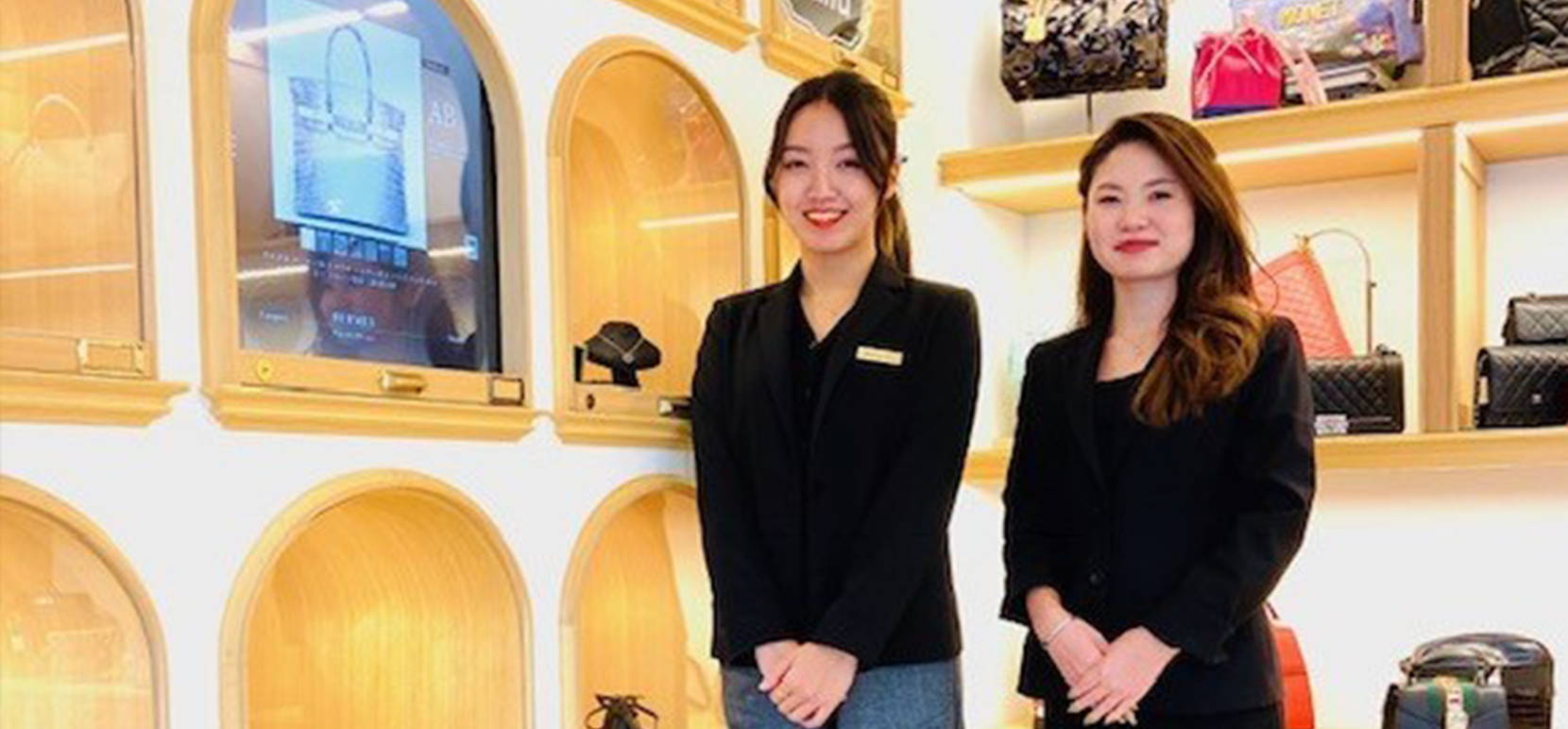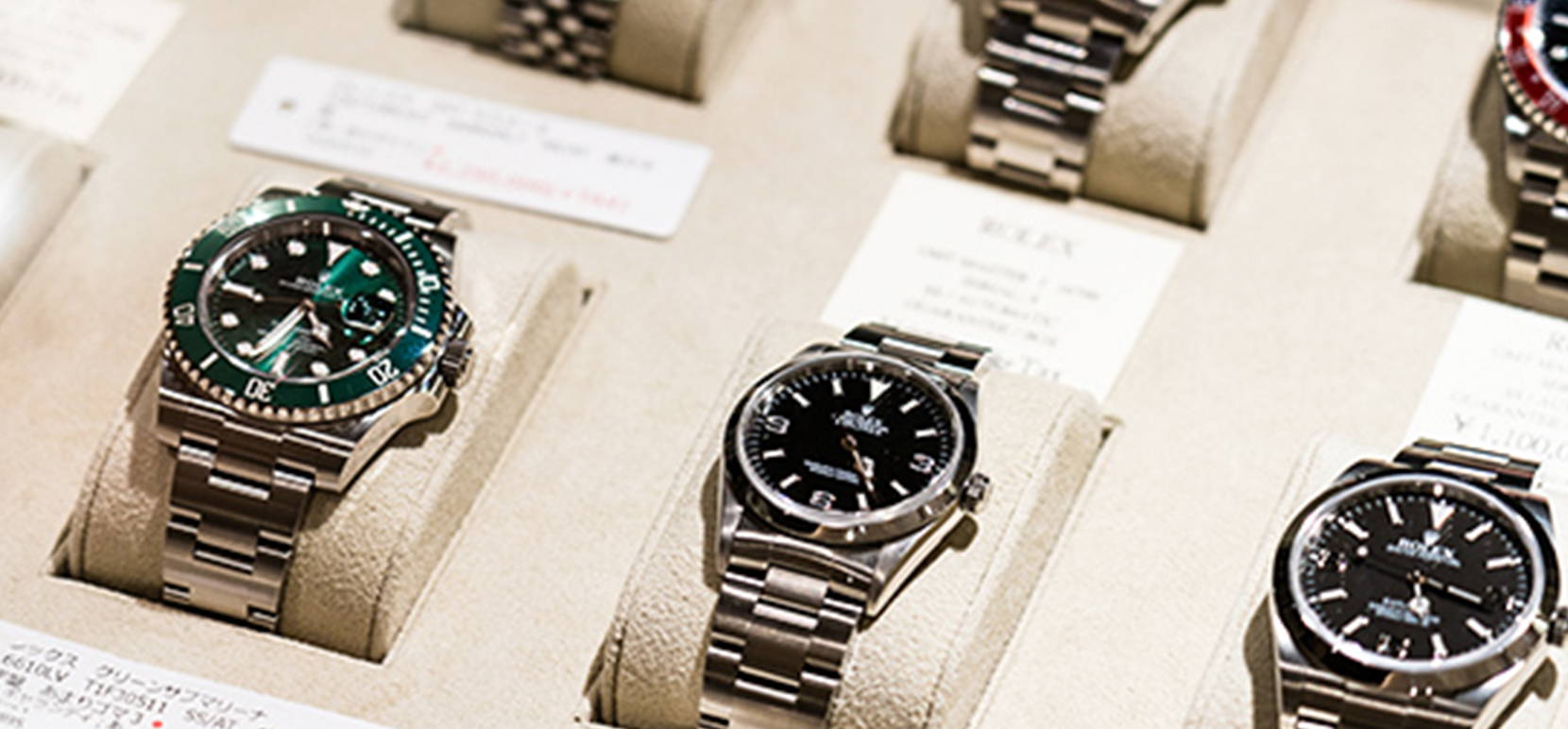 Various and High-Quality Products
Our shop selects and collects "Vintage" items, rare items, and items that are not available in other retail shops. Find your dream items in here!
Our shop provides smooth communication in multiple languages for customers. We provide professional and relevant information about a wide variety of items.
For a more enjoyable experience, we provide Tax-Free service for Non-resident visitors from overseas and foreign nationals who have stayed in Japan for less than six months.
Local pickup for online orders
Before you come to Japan or you stay in Japan, you can set up the option to pick up the online orders at our GINZA or OSAKA retail store.